Valay-Brest
A recipe from
cooking-ez.com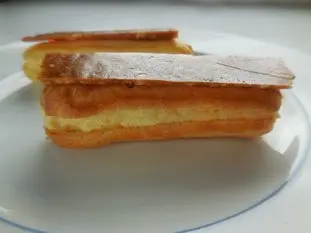 For 24 pieces, you will need:
Times:
| Preparation | Cooking | Start to finish |
| --- | --- | --- |
| 58 min. | 30 min. | 1 hour 28 min. |
Step by step recipe
1: Preheat the oven to 360°F (180°C).
Prepare 300 g Choux pastry (pâte à choux) and pipe the eclairs about 5-6 cm (2 inches) long using a forcing bag with a ridged nozzle, if possible.
2: Bake the mini eclairs.
3: When cold, cut in half lengthways.
4: Fill each "bottom" with apple-flavoured confectioner's custard.
5: Replace the "lid".
Fill all the eclairs like this and put to wait in the fridge.
6: Prepare the walnut nougatine: preheat the oven to 300°F (150°C). Spread 50 g walnut kernels on a baking sheet and toast for 5 minutes in the oven.
7: When cooled, use a blender to grind the toasted walnuts to a powder.
8: Use 150 g caster sugar and 3 tablespoons water to make a light caramel.
9: Tip the ground walnuts into the caramel...
10: ...and mix thoroughly.
Now you need to work as quickly as possible, because the nougatine will set rapidly as it cools.
11: Pour the nougatine out onto a sheet of cooking parchment.
12: Lay a second sheet on top and roll the nougatine out as thinly as possible with a rolling pin.
13: Use a large knife to cut the nougatine, or at least score it, into strips about 1 cm (0.3 inch) wide.
14: When cooled, cut the strips apart.
15: Stick these onto the tops of the eclairs with a little confectioner's custard.
Refrigerate until needed, but do not serve too cold.
Remarks
It is not essential for the nougatine to be a rectangle exactly the size and shape of the eclair. On the contrary, the "deconstructed" look with pieces laid side by side can be attractive.
Some recipes insist that the caramel for the nougatine should be made "dry", i.e. without added water, but I don't think this is essential.
---
May 31th 2020.