Aligot
A recipe from
cooking-ez.com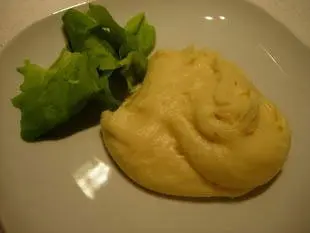 For 4 people, you will need:
Times:
Preparation
1 hour 17 min.
Step by step recipe
1: Prepare 500 g potato purée. (Note that the French potato purée is more liquid than British-style mashed potatoes).
2: Cut 250 g cheese into thin shreds. A vegetable peeler is the ideal tool for this.
3: On low heat, add a few shreds of cheese to the potato purée.
4: Then stir until the cheese is completely melted.
Repeat this operation until all the cheese has been incorporated.
5: Your aligot can be served at this stage, but traditionally, the stirring should be continued (though this is rather tiring) until it becomes stretchy and can be pulled out of the pan.
6: Serve piping hot, on its own or with a traditional French sausage, for example.
Remarks
You can use any cheese of your choice, but for a "real" aligot, you should use a "tome fraiche" from Laguiole.
If you like garlic, add a finely chopped clove at the same time as the cheese.
---
September 22th 2020.