Baked potoatoes with herb butter or cream
A recipe from
cooking-ez.com
178K
1
4.2
October 24
th
2010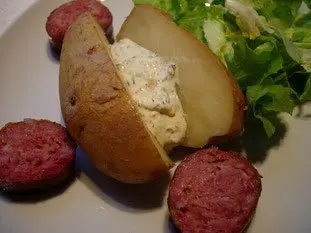 For 6 people, you will need:
Times:
| Preparation | Resting | Cooking | Start to finish |
| --- | --- | --- | --- |
| 22 min. | 20 min. | 1 hour | 1 hour 42 min. |
Step by step recipe
1: Preheat the oven to 200°C (390°F).
Wash the potatoes, scrubbing them thoroughly under running water. Use large potatoes if possible, like samba or belles de Fontenay (King Edwards are good in Britain).
Place them on a baking tray without wiping dry and put in the oven.
2: Meanwhile, finely chop the herbs and put in a bowl with 100 g butter, 1 teaspoon lemon juice, salt and pepper.
3: Mix with a fork.
4: Tip the mixture onto a sheet of plastic film and roll up to produce a cylinder.
5: Twist the ends of the film firmly, rather like a sweet wrapper, and put to wait in the fridge.
6: Another possible topping can be made by mixing the chopped herbs, salt and pepper with 150 g cream.
7: After one hour, check if the potatoes are cooked: a knife blade should pass through them easily. If you feel the least resistance, put them back to cook for a further 10 to 15 minutes, then check again.
8: Cut the roll of herb butter into thick slices.
9: Split the hot potatoes on a plate and place a spoonful of the cream with herbs, or a slice of herb butter, in the centre. Leave to melt for a minute before serving.
The potatoes can be served simply like this, or with a little green salad and a good vinaigrette dressing, and why not add some slices of Morteau sausage?
Remarks
For a lighter option, you can replace the cream with yoghurt, fromage frais, or cottage cheese.
---
September 27th 2022.