Baker's chicken and potato tart
A recipe from
cooking-ez.com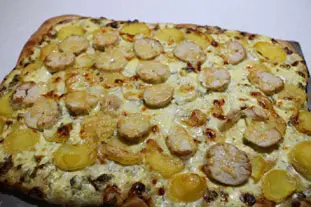 For 6 people, you will need:
Times:
| Preparation | Cooking | Start to finish |
| --- | --- | --- |
| 33 min. | 50 min. | 1 hour 23 min. |
Step by step recipe
1: Lay a chicken breast on a piece of plastic film, salt and pepper both sides, and put a bayleaf and spring of thyme on top.
2: Roll up the chicken in the film like a boiled sweet and tie the ends firmly with string.
Wrap all the chicken breasts like this.
4: Drain and leave to cool, then remove and discard the film wrapping. Slice the chicken thinly.
5: Preheat the oven to 430°F (220°C).
Slice 400 g cooked potato.
Set aside.
6: Chop the parsley.
7: Mix in a bowl: 200 g cream cheese, 200 g cream and the parsley, then season with salt and pepper.
8: Roll out 500 g bread dough into a large rectangle on a sheet of cooking parchment.
9: Spread the herb topping mixture over the dough, leaving a thin border around the edge.
10: Arrange the potato slices over...
11: ...then the chicken on top.
12: Finish with a sprinkling of grated cheese and put in the oven...
13: ...to bake for about 30 minutes.
Remarks
This recipe can be varied in lots of ways, with different toppings as the mood takes you.
---
September 20th 2021.