Cheese Soufflé
A recipe from
cooking-ez.com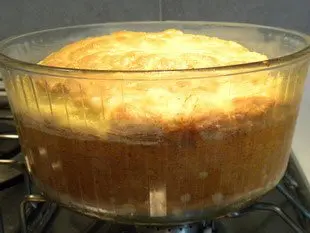 For 5 people, you will need:
Times:
| Preparation | Cooking | Start to finish |
| --- | --- | --- |
| 1 hour 4 min. | 30 min. | 1 hour 34 min. |
Step by step recipe
1: Separate the whites and yolks of 6 eggs.
Put the whites into a food mixer bowl.
2: Bring 250 ml whole milk to the boil with 1 pinch grated nutmeg in a pan. Take off the heat as soon as it boils.
3: Melt 50 g butter in another pan over low heat.
4: Next add 50 g flour all at once, salt and pepper, then stir constantly for 1 minute using a soft spatula or wooden spatula. This mixture is the "roux" and should not be allowed to brown.
5: Still over low heat, pour in the hot milk in a trickle while whisking to mix thoroughly...
6: ...until the sauce is thick.
If this looks familiar, it's because you have just made a classic bechamel sauce.
7: Remove from the heat, add 150 g grated cheese...
8: ...and mix well.
9: Check that the mixture is not too hot (you should be able to hold your finger in it); if not, leave to cool for a while longer.
Then add the egg yolks 2 at a time, mixing thoroughly at each stage.
10: The mixture should now be very smooth.
Preheat the oven to 360°F (180°C).
11: Beat the egg whites until stiff.
12: Tip 1/4 of the beaten whites into the mixture.
13: And fold in gently.
14: Then tip this onto the rest of the egg whites...
15: And fold in gently.
It doesn't really matter if there are a few lumps of white that are not completely mixed in.
16: Butter the dish and dust with flour, as shown in this video.
17: Pour the mixture into the dish until no more than 2/3 full.
18: Bake for about 30 minutes, until the soufflé is well risen and nicely browned.
19: Serve immediately with a green salad, for example, a few herbs and a good French dressing (vinaigrette).
Remarks
Here are the main points to watch if you want to make a successful soufflé: :
The roux must not be allowed to brown (don't overcook it)
The mixture must not be too hot when you add the egg yolks (or they will cook)
The whites must be beaten until they are quite stiff
The dish should be buttered well, then dusted with flour
The dish should have sloping sides (to allow the soufflé to swell and rise during cooking)
For a professional touch you can give the soufflé a flat, smooth top by smoothing the surface with a
palette-knife
before baking and begin the cooking with 3 minutes under the grill.
As for the cheese, I prefer Comté, but you can use whatever you choose, even a mixture.
---
September 21th 2020.