New York style pasta
A recipe from
cooking-ez.com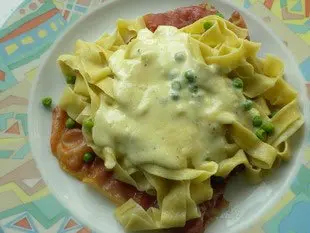 For 4 people, you will need:
1

150 g peas

2

8 slices cured ham

3

200 ml cream

4

grated nutmeg

5

400 g tagliatelles

6

2 tablespoons olive oil

7

salt

8

pepper
Total weight: 1,100 grams
Times:
| Preparation | Cooking | Start to finish |
| --- | --- | --- |
| 17 min. | 29 min. | 46 min. |
Step by step recipe
1: Bring a large pan of water to the boil over high heat. When boiling, add salt and blanch the peas for 1 minute.
3: Fry 8 slices cured ham in a very hot frying pan for 30 seconds on each side.>Set aside.
4: Use the same pan for the sauce, without cleaning it: pour in 200 ml cream, salt and pepper, then add grated nutmeg to taste.
Mix well and leave on low heat to reduce.
5: Meanwhile, cook 400 g tagliatelles.
6: When cooked "al dente", drain the pasta and return to the pan.
Add the peas and 2 tablespoons olive oil, mix well and leave on low heat for the peas to heat through while you get the plates ready.
7: Place a slice of ham on each plate, top with the pasta and pour the sauce over.
Serve immediately.
Remarks
You can replace the peas with any other vegetables (preferably green) that you like: mange-tout peas, asparagus tips, broad beans, etc.
---
October 19th 2019.