Norwegian tartines
A recipe from
cooking-ez.com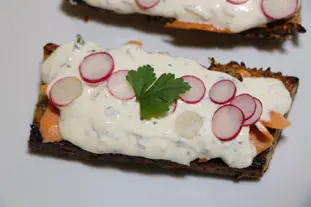 For 4 tartines, you will need:
Times:
| Preparation | Cooking | Start to finish |
| --- | --- | --- |
| 21 min. | 7 min. | 28 min. |
Step by step recipe
1: Thinly slice 4 radishes. The ideal tool for this is a mandolin, but if you don't have one, a really sharp knife will do the job.
Set aside.
2:

Topping

Put 1 Greek yoghurt into a bowl with chopped coriander to taste, 1 shallot finely chopped, salt and pepper.

Mix well and set aside.
3: Cut 4 slices bread. Choose a rustic, Scandinavian-style bread with a mix of flours and plenty of seeds.
4: Butter the slices on both sides.
5: Brown the slices on both sides in a frying pan on high heat.
Keep hot.
6: Using the same pan, still on high heat, cook the smoked trout fillets for just a few seconds on each side.
7: Lay the trout fillets on the bread slices.
8: Divide out the topping and garnish with a few radish slices. Serve without delay.
Remarks
If you don't have smoked trout, another type of smoked fish will work well, I'm thinking of smoked haddock in particular.
It is much better to use a Greek-style yoghurt for a smoother, creamier topping.
You can use other herbs instead of the coriander, such as dill, parsley or chervil.
---
October 25th 2020.