Oxtail Parmentier
A recipe from
cooking-ez.com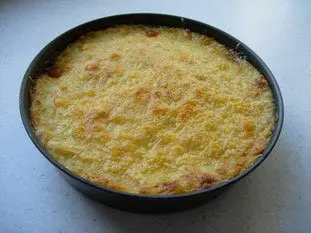 For 6 people, you will need:
Times:
| Preparation | Cooking | Start to finish |
| --- | --- | --- |
| 1 hour 16 min. | 4 hours 30 min. | 5 hours 46 min. |
Step by step recipe
1: Wash and dry 1 kg oxtail, salt and pepper the pieces both sides.
Preheat oven to 284°F (140°C).
2: Put the oxtail pieces in a cooking bag or an ovenproof dish with a lid (casserole), pour 1 glass red wine over, and add herbs.
3: Put in the oven for 4 hours.
The happy owners of bread ovens can cook it, after bread baking, overnight.
4: After 4 hours, take out the oxtail pieces which will be transformed into "confit".
5: Separate all good meat from bones and nerves, which you discard.
6: Strain cooking juices and set aside.
7: Prepare 600 g potato purée.
Everything so far (purée, meat and meat juices) can be easily prepared beforehand, even 2 or 3 days before, and kept in sealed containers in the frige.
8: Assemble the Parmentier:
Preheat oven to 410°F (210°C).
In small individual dishes or a family one, put a layer of oxtail meat.
Pour over a tablespoon of meat juices.
9: Add a good layer of purée to cover the meat completely.
10: Sprinkle with grated cheese to taste.
11: Put in the oven until the top is nicely browned.
Remarks
Oxtail is a really delightful and cheap meat, but which needs long cooking. It is this slow stewing which develops its flavour and gives this "confit" look.
If you have meat left over from this, you can enjoy it cold, in vinaigrette, mixed with a green salad and herbs, it's a treat.
---
August 21th 2019.