Penne with Mushrooms
A recipe from
cooking-ez.com
33K
4.3
February 28
th
2016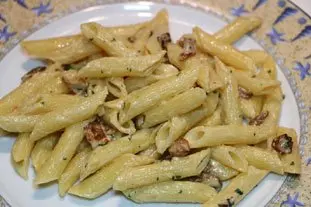 For 4 people, you will need:
Times:
| Preparation | Cooking | Start to finish |
| --- | --- | --- |
| 19 min. | 18 min. | 37 min. |
Step by step recipe
1: Peel and chop 500 g mushrooms fairly small.
If possibile, use mushrooms which have some character to them, such as shiitake or king oyster.
2: Pour 3 tablespoons olive oil into a large frying pan on high heat.
When really hot, add the mushrooms, salt and pepper.
3: Sauter the mushrooms until golden brown.
At the end of frying, you can add a little lemon juice to bring out the mushrooms' flavour, but this is not essential.
4: Pour 250 ml liquid cream into the frying pan.
5: Leave to reduce on low heat.
6: Meanwhile, cook the penne.
7: When the penne are cooked, drain well, then add to the mushrooms and mix well.
That's all there is to it.
Remarks
You don't have to use penne, any other pasta you prefer will work just as well.
---
September 17th 2021.