Potato wallets
A recipe from
cooking-ez.com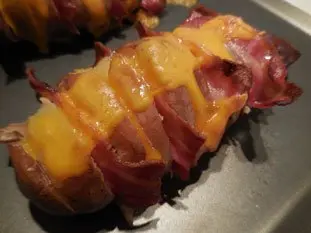 For 4 people, you will need:
1

150 g belly (streaky) bacon

2

150 g cheese

3

2 tablespoons olive oil

4

4 potatoes
Total weight: 970 grams
Times:
| Preparation | Cooking | Start to finish |
| --- | --- | --- |
| 19 min. | 45 min. | 1 hour 4 min. |
Step by step recipe
1: If not already sliced, slice the bacon into thin rashers.
Lay on a baking sheet and cook at 360°F (180°C) until nicely browned (about 15 minutes), or cook under the grill.
2: When cold, cut the bacon into shorter pieces.
3: Slice 150 g cheese (Cheddar here) fairly thinly.
4: Wash the potatoes thoroughly (the skins are for eating) and boil them until tender.
5: When cooked, cut several vertical slices, without cutting all the way through.
6: Slip a piece of bacon and/or cheese into each slot.
7: Brush the skins of the potatoes with olive oil to help them crisp up during baking.
8: Finish with a slice of cheese on the top, if you wish...
9: ...and bake for about 10 minutes, until the cheese has melted.
Serve with a green salad, if possible.
Remarks
Use fairly large potatoes to make assembling the wallets easier.
You can use smoked bacon, if you prefer the flavour.
---
January 28th 2022.