Sausages with baked beans, French style
A recipe from
cooking-ez.com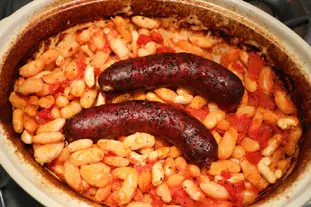 For 4 people, you will need:
Times:
| Preparation | Cooking | Start to finish |
| --- | --- | --- |
| 9 min. | 55 min. | 1 hour 4 min. |
Step by step recipe
1: The day before, soak 500 g white haricot beans in a large bowl of cold water.
2: The next day, rinse them under running water.
3: Tip into a large pan of boiling salted water and leave on a rolling boil for 10 - 20 minutes.
4: After this, tip into a strainer and rinse again under cold water.
5: Put the beans into a terrine or other ovenproof dish. Add 400 g peeled and chopped tomatoes, 1 bayleaf, 500 ml Vegetable stock, salt and pepper, then mix well.
6: Lay 400 g sausages on top and prick these with the point of a knife to allow the flavour to seep into the beans.
7: Bake at 360°F (180°C) for 45 minutes, covered for the first 25 minutes, then uncovered for the rest.
Check during cooking that the beans are not drying out too much, and add a little more stock if necesssary.
Remarks
"Mogettes" are dried white beans from France's Vendée region. If you can't get these, you can use any other type of beans you like. It's not absolutely essential to use
smoked sausages
, but it's certainly better.
If you don't have vegetable stock, use chicken stock instead or even just water with a
stock cube
.
---
March 23th 2023.