Stuffed pumpkin gratin
A recipe from
cooking-ez.com
48K
4.1
November 29
th
2015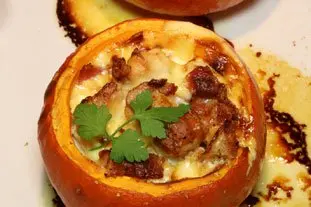 For 2 people, you will need:
1

300 g chicken breast

2

300 g belly (streaky) bacon

4

150 g cooked chestnuts

5

200 ml liquid cream

6

salt

7

pepper
Total weight: 1,550 grams
Times:
| Preparation | Cooking | Start to finish |
| --- | --- | --- |
| 18 min. | 51 min. | 1 hour 9 min. |
Step by step recipe
1:

Prepare the filling


Cut 300 g chicken breast and 300 g belly (streaky) bacon into small dice.
2: Fry the bacon in a frying pan on high heat, then set aside.
3: Use the same frying pan to fry the diced chicken in the bacon fat.
4: When the chicken is nicely browned, retrun the bacon to the pan, salt and pepper, then stir together to blend the flavours.
Set aside.
Preheat the oven to 390°F (200°C).
5:

Prepare the pumpkins


Use one small pumpkin (about 11 ounces or 300 g) per person.
Slice just a little off the bottom so that it will sit firmly on the plate.
Take care to leave a good thickness of skin, or the pumpkin may leak during cooking.
6: Use a spoon to scoop out the seeds from the centre of each pumpkin, then
salt and pepper the inside.
7: Fill the pumpkin with a layer of meat.
8: Add a layer of chestnuts, sliced fairly thickly.
9: Add a second layer of meat.
10: Fill up to the top with cream, then salt and pepper again.
11:

Cook the pumpkins


Bake for about 40 minutes.
12: Serve piping hot.
Remarks
You can use other fillings if you prefer, of course, but the combination of another meat with bacon works really well.
---
March 23th 2023.