Thaï rice with small vegetables
A recipe from
cooking-ez.com
257K
4.4
February 21
th
2011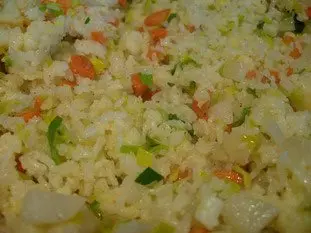 For 6 people, you will need:
Times:
| Preparation | Cooking | Start to finish |
| --- | --- | --- |
| 1 hour 21 min. | 13 min. | 1 hour 34 min. |
Step by step recipe
1: Cook 300 g Thai rice.
This can be done beforehand, even several days before.
3: Cut carrots and turnips into small pieces.
4: Chop leeks finely.
5: Chop shallot.
6: Cut cauliflower into florets.
7: Pour 4 tablespoons olive oil into a large pan on medium heat, as soon as oil is hot, add shallot, salt, pepper, and cook 1 minute.
8: Add carrots, turnips and cauliflower.
Stir well, but do not salt at this stage to prevent vegetables from releasing too much water.
9: Cover and leave to cook 7 minutes.
We put these vegetables in first, because they take longer to cook than leeks, and leeks became a dull green if overcooked.
10: After this time, remove lid and add leeks, mix well and cook uncovered for 3 minutes.
11: After this time add cooked rice, mix well and cook 2 more minutes, still uncovered.
Salt, pepper, and check seasoning.
12: Your Thaï rice with small vegetables is ready.
Remarks
For success with this recipe, it's important that leeks stay a pretty green and are not overcooked, it's more attractive and tastier. That's why the lid is removed when they go in the pan as the last vegetables.
You can use a different kind of rice: apart from Thaï, there's Basmati, Italian, Camargue, etc.
---
July 3rd 2022.