Warm cauliflower salad with two cheeses
A recipe from
cooking-ez.com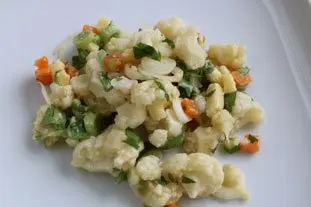 For 4 people, you will need:
Times:
| Preparation | Cooking | Start to finish |
| --- | --- | --- |
| 24 min. | 7 min. | 31 min. |
Step by step recipe
1: Dice 250 g cheese fairly small (Cantal and Mimolette shown here, see below for other ideas).
Peel and finely chop 1 spring onion (scallion).
Roughly chop the parsley and coriander.
2: Prepare 400 g cauliflower, keeping only the small, neat florets, no larger than a mouthful.
3: Steam the cauliflower until just tender.
4: When cooked, drain thoroughly and tip into a salad bowl while still hot.
5: Add the diced cheeses, herbs and onion.
6: Add 5 tablespoons French dressing (vinaigrette), mix well and serve immediately to keep the "warm" effect.
Remarks
For the two cheeses, you can use others, of course, instead of Cantal and mature Mimolette, but I advise you to choose ones with a hard paste (Comté, Gruyère, Beaufort, Cheddar, etc.).
---
August 1st 2021.