Welsh (French Welsh Rarebit)
A recipe from
cooking-ez.com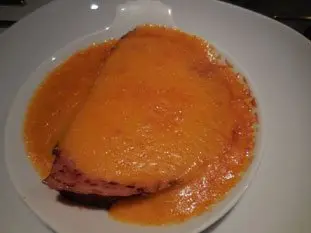 For 2 people, you will need:
1

300 g cheese

2

2 slices ham

3

1 teaspoon olive oil

4

300 ml beer

5

2 slices bread

6

pepper
Total weight: 805 grams
Times:
| Preparation | Cooking | Start to finish |
| --- | --- | --- |
| 9 min. | 24 min. | 33 min. |
Step by step recipe
1: Preheat the oven to 390°F (200°C).
Grate the cheese, preferably cheddar.
2: Fry 2 slices ham, cut in half, in 1 teaspoon olive oil in a frying pan over medium heat. Allow it to colour slightly on both sides.
3: Using the same pan, without cleaning it, pour in 300 ml beer and bring to the boil.
4: Turn down the heat and add the cheese.
5: Stir gently but constantly until the cheese melts and mixes with the beer. Pepper.
6: Take a small oven-proof dish and place 1/2 a slice of ham in the bottom, then a slice of toasted bread on top...
7: ...then the other half of the ham.
8: Pour the melted cheese over and bake (or put under the grill) to brown the top lightly.
Serve piping hot.
Remarks
It is important to use Cheddar cheese, the orange variety keeps the right mood. Use whatever beer you prefer. I like to use a Belgian white beer.
You can also serve Welsh rabbit with a fried egg sat on top (sometimes known as a buck rabbit).
---
August 13th 2022.