Leeks in vinaigrette
A recipe from
cooking-ez.com
166K
4.3
September 29
th
2012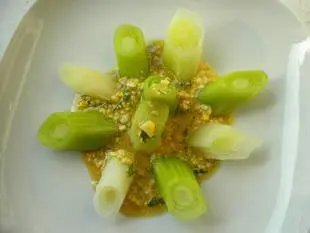 For 4 people, you will need:
Times:
| Preparation | Cooking | Start to finish |
| --- | --- | --- |
| 40 min. | 5 min. | 45 min. |
Step by step recipe
1: Prepare 4 leeks, but keep the white part whole (don't split or chop them) then slice them about 2 cm or 1 inch thick.
Cut on the diagonal as this looks nicer (see photo).
2: Steam the leeks in a pressure cooker for five minutes, counting from when it starts to hiss.
3: The idea is to have leeks which ar only just cooked and which keep as much of their colour as possible.
4: Shell 2 hard-boiled eggs and chop finely once cold.
5: Chop the parsley.
6: Mix 150 ml French dressing (vinaigrette) with the chopped eggs and herbs.
7: Serve the sliced leeks, preferably warm, with the vinaigrette dressing poured over.
Remarks
For a richer dressing, use 2 yolks to one egg white instead of whole eggs.
You can vary the herbs using any you choose, not just the usual parsley.
---
June 9th 2023.