Like a Boursin with garlic and herbs
A recipe from
cooking-ez.com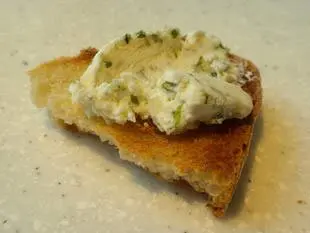 For 300 g, you will need:
Times:
Step by step recipe
1: Mash 250 g cream cheese with a fork.
If you have the energy, pass it through a sieve with a maryse. This is more work of course, but it will be much smoother.
2: In any case, you need to obtain a sort of paste.
3: Prepare 1 shallot and 1 garlic clove, then chop finely.
4: Wash 1 bunch chives and chop finely.
5: Do the same with 1 bunch parsley.
6: Tip all this into the cheese, salt lightly (how much will depend on the saltiness of the cheese you are using), pepper generously and mix well.
Check seasoning.
7: Pack the mixture into ramekins, then cover with plastic film to protect from the air, and keep in the fridge.
8: Serve with good bread, toasted (how I like it best) or not.
Remarks
You can change the herbs to any you like, according to taste. Why not try coriander and chervil, for example, which is delicious.
For a stronger flavour, replace half the cream cheese with feta.
---
August 8th 2022.