Piedmont salad
A recipe from
cooking-ez.com
238K
1
3.5
September 29
th
2012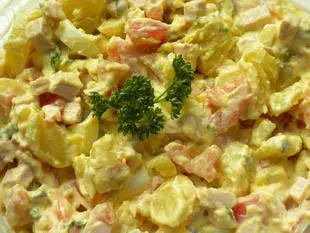 For 6 people, you will need:
Times:
Preparation
1 hour 19 min.
Step by step recipe
1: Prepare 200 g tomato and, after cutting into small pieces, salt and leave to wait in a sieve to draw out some of the juice.
2: Boil 400 g potatoes, peel and cut in half lengthways, then into small pieces.
3: Slice 4 hard-boiled eggs when cooled.
Cut 100 g cervelas into small dices.
4: Slice 30 g gherkins in vinegar.
5: Roughly chop the parsley.
6: Put all the ingredients into a salad bowl.
7: Add 200 g Mayonnaise and mix well.
Leave for at least an hour before serving to allow the potatoes to absorb some of the creaminess of the mayonnaise.
Remarks
You can replace the cervelas with another kind of meat or sausage of your choice, but still cut into small dice. For a vegetarian version, just leave it out.
You can replace the mayonnaise with a
rémoulade dressing
if you prefer. As for all salad recipes, this can be varied to suit your taste (a little more of this or a little less of that).
---
December 2nd 2021.