Quail egg canapés
A recipe from
cooking-ez.com
312K
4.4
February 21
th
2011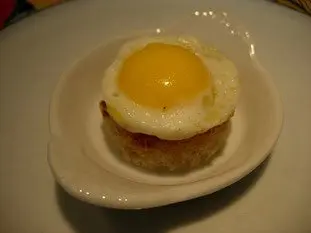 For 20 pieces, you will need:
Times:
| Preparation | Cooking | Start to finish |
| --- | --- | --- |
| 43 min. | 11 min. | 54 min. |
Step by step recipe
1: With a 35 or 40 mm diameter cutter, cut out at least 20 circles from the bread slices.
2: Butter these 20 circles on one side.
Set aside.
3: Prepare quail eggs by cracking them one at a time...
4: ... and pouring them into a bowl.
Foot-note: the gesture for opening quail eggs is not easy to describe, so you can check out the small demonstration video.
5: Cut the ham slices into squares, about the size of bread circles, or a bit bigger.
Set aside.
6: When ready to serve, place the bread circles buttered side down in a hot frying pan without any other fat,
Allow to colour a few minutes, then turn over, and again allow to colour on the other side.
Set aside.
7: In the same frying pan, without cleaning it, cook the pieces of ham for a few seconds on each side.
Set aside.
8: In the same frying pan, without cleaning it, pour in the quail eggs.
Immediately, with a spatula, try to separate them from one another to prevent the touching.
Ideally one aims to keep whole egg yolks (not broken!), with enough egg white around so that they can be removed with the cutter you used for the bread.
9: Assemble the canapés:
Onto a hot plate (the canapés cool very quickly), place a toasted bread circle, put a piece of ham on top, then cover with an egg taken in the frying pan with the cutter, salt and pepper.
Sprinkle if you wish with some chopped chives.
Serve immediately, and inform your guests that these canapés should be eaten in one mouthful...
Remarks
For the bread I advise you to use
leavened bread
, with more taste than traditional
sandwich bread
.
Very ofen when cooking small items such as these canapés, there are a few failures (see the photographs...), that's why it's smart to cut out one or two spare bread circles, one or two extra pieces of ham, to break one or two extra eggs, etc, to make up the right number at the end.
---
March 23th 2023.