Very green mixed salad
A recipe from
cooking-ez.com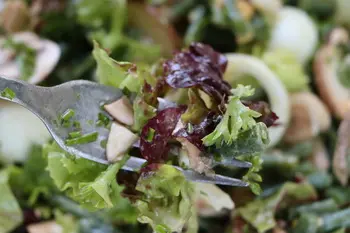 For 4 people, you will need:
Times:
Step by step recipe
1: Place 200 g lettuce in a salad bowl. You can cut them into chiffonade if you prefer, but it's not essential.
2: Prepare and chop 200 g button or field mushrooms, pour into the salad bowl.
3: Cut 200 g cooked green beans into small pieces...
4: ...then add them to the bowl.
5: Prepare and slice herbs of your choice and add it to the salad bowl, along with 2 hard-boiled eggs, which you will have sliced.
6: Add the coarsely chopped herbs.
7: Finish with 5 tablespoons French dressing (vinaigrette), mix well and your salad is ready.
Remarks
If you don't have spring onions, replace them with shallots or finely chopped red onions.
---
December 8th 2023.