Ali Baba bread
A recipe from
cooking-ez.com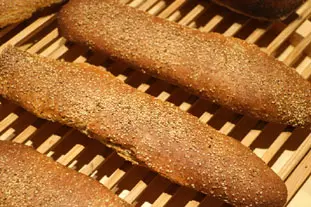 For 4 loaves, you will need:
0

100 g sesame seeds

1

100 g water

2

100 g leaven

3

320 g water

4

30 g sesame oil

5

40 g tahini (sesame paste)

7

5 g yeast

8

9 g salt

9

10 g sesame seeds

10

1 tablespoon oil
Total weight: 1,229 grams
Times:
| Preparation | Resting | Cooking | Start to finish |
| --- | --- | --- | --- |
| 43 min. | 3 hours | 40 min. | 4 hours 23 min. |
Step by step recipe
1: Preheat the oven to 360°F (180°C).
Lay a sheet of cooking parchment on a baking sheet and spread 100 g sesame seeds out on this.
Toast in the oven for 15 minutes.
2: Take the sesame seeds out of the oven and tip them into 100 g water.
Mix quickly and leave to cool.
3: Put into a mixer bowl in the following order: 100 g leaven, 320 g water, 30 g sesame oil, 40 g tahini (sesame paste), 500 g plain white flour (French Type 65), 5 g yeast and 9 g salt.
4: Knead on slow spead for 15 mintes.
Note: For the best way to knead, see: A few tips for effective kneading at home..
5: 2 minutes before the end of the kneading time, add the sesame seeds with their soaking water.
6: Gather the dough into a rough ball and transfer to a large clean bowl, then cover with a plastic sheet.
Leave to rest for 1 hour.
7: After resting, knock back and work the dough: stretch it up with a dough-cutter as far as possible...
8: ...and fold it over.
Do this once or twice, then cover again with the plastic and leave to rest for another hour.
9: After resting, weigh out the dough into lumps of about 350 g and shape these into oval balls.
Cover with the plastic sheet and leave to rest for 20 minutes.
10: After this, fold each ball lengthways in 3 to form a long roll.
11: Lay the loaves in a baguette tin or mould or, if you don't have one, on a baking sheet.
12: Brush the tops of the loaves with a little water or oil and scatter some raw sesame seeds over them. Press these in slightly to help them stick.
13: Preheat the oven to 460°F (240°C ) and bake for 20 to 30 minutes.
Note: As when baking any bread, you should ensure that the oven is filled with steam for the first 15 minutes of baking. This page shows you how; it really is the secret of golden-brown, crusty loaves..
Remarks
This bread is delicious enough on its own, but it si simply heavenly with
houmous
, especially if sliced thin and toasted.
---
September 26th 2020.