Hamburger buns
A recipe from
cooking-ez.com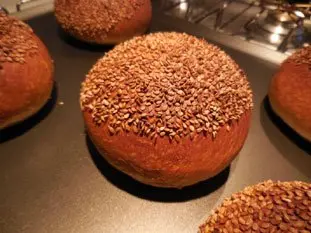 For 8 buns, you will need:
Times:
| Preparation | Resting | Cooking | Start to finish |
| --- | --- | --- | --- |
| 49 min. | 2 hours 45 min. | 25 min. | 3 hours 59 min. |
Step by step recipe
1: Put into a food-processor bowl: 15 g yeast, 500 g plain white flour (French Type 65), 180 g milk, 75 g butter, 2 eggs and 9 g salt.
The milk should be at fridge temperature.
2: Knead on slow speed for 10 minutes (the mixture should ideally reach 73°F [23°C] during this process).
Note: For the best way to knead, see: A few tips for effective kneading at home.
3: Gather the dough into a ball, transfer to a clean bowl and cover with a plastic sheet. Leave to rest for 1 hour.
4: After this, weight out into 100 g lumps.
5: Shape into balls, cover with a plastic sheet and leave to rest for 15 minutes.
6: Prepare 2 dishes, one with sesame seeds, the other with wet absorbant paper.
7: Press out a ball of dough into a disc by hand, then reform into a ball.
Roll the top of the ball over the wet paper to moisten it thoroughly.
8: Then roll it around in the sesame seeds...
9: ...to coat the top of the ball.
10: Place the ball on a baking sheet.
Prepare all the balls of dough like this, cover with a plastic sheet and leave to rest for 1 hour 30 minutes.
11: Preheat the oven to 460°F (240°C) and bake for about 25 minutes, until the buns are golden brown.
Note: As when baking any bread, you should ensure that the oven is filled with steam for the first 15 minutes of baking. This page shows you how; it really is the secret of golden-brown, crusty loaves..
Remarks
This is a new version of the classical recipe for even softer rolls.
---
June 5th 2023.