Cornmeal baps for Anne
A recipe from
cooking-ez.com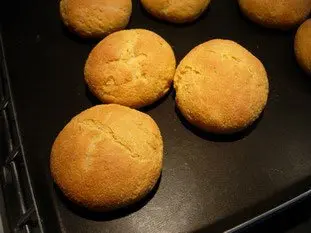 For 20 baps, you will need:
Times:
| Preparation | Resting | Cooking | Start to finish |
| --- | --- | --- | --- |
| 23 min. | 5 hours | 30 min. | 5 hours 53 min. |
Step by step recipe
1: Warm 100 ml water and pour into a bowl. Add 1 teaspoon caster sugar and 20 g yeast. Mix gently with a whisk until yeast is completely dissolved, then add 30 g flour and mix again throughly with the whisk.
2: Cover the bowl with a plastic sheet, and leave in a warm place for at least 2 hours.
At the end of this time you will see that the contents of the bowl has fermented, and that it is bubbling and frothing slightly. This mixture is called a poolish.
3: Tip into the mixing bowl of a food processor: poolish, 300 g Fine cornmeal, 400 g flour, 2 eggs, and 12 g salt dissolved in 240 g milk warmed beforehand, either for several hours at room temperature, or a few seconds in the microwave.
4: Knead on slow speed for 5 to 8 minutes.
Note: For the best way to knead, see: A few tips for effective kneading at home.
5: Gather dough into a ball, put in a bowl covered with a plastic sheet, and leave in a warm place for around 2 hours...
6: ...until doubled in volume.
7: Cut the dough into pieces of about 50 g and roll into balls, as for ciabatta.
Cover with a plastic sheet and leave to rest in a warm place for about an hour.
8: Preheat oven to 200°C (390°F).
Brush the tops of the baps with a little milk.
9: Cut a cross in the top if you wish.
10: Bake for about 30 minutes (watch for colouring).
Remarks
These cornmeal baps are very soft, and can be eaten with either sweet or savoury additions, but are delicious on their own too.
This cornmeal bread should not be confused with the traditional American cornbread, which has a more cake-like texture.
---
July 12th 2020.