Kugelhof for Nanou
A recipe from
cooking-ez.com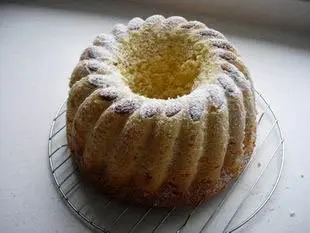 For 1 kugelhof, you will need:
Times:
| Preparation | Resting | Cooking | Start to finish |
| --- | --- | --- | --- |
| 35 min. | 2 hours | 40 min. | 3 hours 15 min. |
Step by step recipe
1: In the bowl of the mixer pour: 100 ml milk, 100 g caster sugar and 9 g fine (or table) salt.
3: Start to knead 1 minute, then add 4 eggs.
4: Continue kneading until you get an elastic dough (with the mixer on speed 2 for about 10 minutes).
Note: For the best way to knead, see: A few tips for effective kneading at home.
5: Meanwhile, cut 310 g butter into small pieces.
6: Quickly add small pieces of butter, and knead until it is completely mixed (no, really, I do not have shares in Kenwood...).
7: Then add the 150 g raisins, knead 1 more minute to mix thoroughly.
8: Melt 10 g butter, and butter the mould generously with a brush. Be sure to work thoroughly into the hollows at the bottom.
9: Place an almond in each hollow of the mould, putting the point towards the outside of the mould, it's prettier.
10: Spread dough evenly in mould.
11: Cover with a plastic sheet and leave in a warm place to rise, until the dough doubles in volume (between two and three hours).
Then bake in the oven at 210°C or 410°F for approximately 40 minutes.
12: Check cooking.
Do not turn out too hot, wait approximately 15 minutes before turning out onto a rack, and then dust with icing sugar.
Remarks
The quantity of
raisins
is approximate, do not hesitate to decrease or increase according to your taste.
Kugelhof dries out and goes stale quickly after being cut, so remember to store it in an airtight tin if possible.
---
September 22th 2021.