Poitevin twist
A recipe from
cooking-ez.com
26K
3.8
December 19
th
2018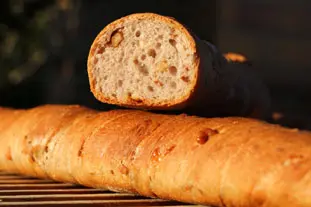 For 4 baguettes, you will need:
1

200 g walnuts

2

200 g cheese

3

2 tablespoons walnut oil

5

300 g water

6

20 g yeast

7

9 g salt

8

4 tablespoons walnut oil
Total weight: 1,319 grams
Times:
| Preparation | Resting | Cooking | Start to finish |
| --- | --- | --- | --- |
| 34 min. | 2 hours 5 min. | 40 min. | 3 hours 19 min. |
Step by step recipe
1: Coarsly chop 200 g walnuts and spread out on a baking sheet, then toast in the oven at 300°F (150°C) for 15 minutes.
2: Leave to cool completely.
3: Cut 200 g cheese into small dice.
4: TIp the toasted walnuts and diced goat's cheese into a bowl. Pour 2 tablespoons walnut oil over and mix thoroughly. This can be prepared the day before (or a few days earlier) and kept in the fridge, coverered with plastic film.
5: In bread-making, the water temperature is always important. It's not a fixed value, but related to 3 other temperatures: 1) the temperature of your flour, 2) the room temperature in your kitchen, and 3) the basic temperature of this recipe, which is 60-64°C.
You can calculate the temperature of the water for this recipe in one click, using this small calculator.
6: Put into a mixer bowl: 500 g plain white flour (French Type 65), 300 g water, 20 g yeast and 9 g salt.
Knead for 5 minutes on the slowest speed, then a further 5 minutes on the second speed.


Note: For the best way to knead, see: A few tips for effective kneading at home.
7: At the end of kneading, incorporate 4 tablespoons walnut oil a little at a time.
8: Tip in the walnut and cheese mixture all at once and knead for a further 1 or 2 minutes until well mixed in.
9: Tip the dough out onto a floured worktop...
10: ...and gather into a ball.
Transfer to a large, clean bowl, cover with a plastic sheet and leave at room temperature to rest for 1 hour.
11: After resting, weight out into lumps of 250 g and shape into balls.
Cover these with a plastic sheet again and leave to relax for 20 minutes.
12: Shape the balls into short baguettes.
13: Lay in baguette tins or moulds...
14: ...or in proving baskets (bannetons).
Cover with a plastic sheet and leave to rest for 45 minutes.
15: Just before putting the bread in the oven, twist each baguette enough turns to make a definite feature.
16: Bake for 25 minutes at 480°F (250°C).
Note: As when baking any bread, you should ensure that the oven is filled with steam for the first 15 minutes of baking. This page shows you how; it really is the secret of golden-brown, crusty loaves.
Remarks
It is best to use a fairly dry goat's cheese, as this will survive the baking better.
If you don't have any walnut oil, use olive oil instead.
---
January 21th 2022.