"Psychedelic" sandwich bread
A recipe from
cooking-ez.com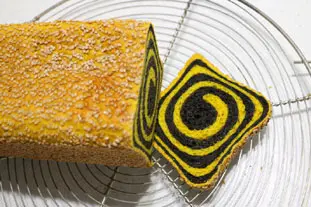 For 1 loaf, you will need:
Times:
| Preparation | Resting | Cooking | Start to finish |
| --- | --- | --- | --- |
| 43 min. | 2 hours 30 min. | 1 hour | 4 hours 13 min. |
Step by step recipe
1: Put into a mixer bowl: 500 g plain white flour (French Type 65), 280 ml milk (very cold)), 30 g caster sugar, 9 g fine (or table) salt, 15 g yeast and, if possible, 100 g Soured dough (for a better flavour).
2: Knead on the slowest speed for 4 minutes, then a little faster for another 8 minutes.

Note: For the best way to knead, see: A few tips for effective kneading at home.
3: Separate the dough into 340 g pieces.
Note: If you are only making 1 loaf, you will have 2 pieces (though this photo shows 4).
4: Put one piece of dough back into the mixer bowl and add 12 g squid ink diluted in 3 tablespoonsful of water (to make it easier to mix in).
Knead for 2 or 3 minutes until the colour is a nice, even black.
5: Put another piece in the mixer bowl and add 12 g turmeric mixed with 3 tablespoonsful of water (to make it easier to mix in).
Knead for 2 or 3 minutes until the colour is a nice, even yellow.
6: Gather the two doughs into balls and transfer to a large, clean bowl. Cover with a plastic sheet.
Leave to rest for 1 hour.
7: After this time, roll out the yellow (turmeric) dough into a large rectangle, the same width as the length of your mould or tin, and as long as possible.
8: Roll out the black (squid ink) dough to the same size as the yellow.
Use a
brush to lightly moisten the surface of the yellow dough, then the black, to help them stick together.
9: Lay the black dough on top of the yellow and roll up together tightly.
10: Trim the ends neatly so that the roll fits easily into the mould or tin.
11: Glaze the roll, then coat with sesame seeds.
12: Lay the dough in the tin or mould with the "seam" underneath.
Put the lid on the mould and leave at room temperature to rest for 1 hour 30 minutes.
13: Bake at 360°F (180°C) for about 45 minutes to 1 hour.
Turn out and leave to cool on a wire rack.
14: You can use the same idea to combine a plain dough with chocolate (brown) or any other colourful idea that may spring to mind.
Remarks
This idea of rolling two (or more) different colours together also works with brioche dough, for sweeter flavours and a moister texture.
You can use any other seeds you like instead of sesame on the outside, and even add some to the dough.
---
March 23th 2023.