"Psychedelic" sandwich bread
---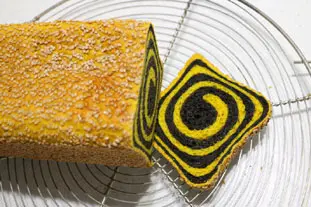 This amazing-looking loaf uses a basic sandwich bread recipe, but half the dough is coloured yellow with turmeric, the other half black with squid ink.

The two colours are then rolled up together to give the spiral effect you can see in the photo. The outside is coated with sesame seeds.

This surprising bread is full of flavour and, with its "psychedelic" look, it makes spectacular sandwiches and canapés.
Last modified on: February 6th 2019
Keywords for this recipe:
Bakery
Bread
Coloured
2 colors
Tumeric
Squid ink
Yellow
Black