Sandwich bread
A recipe from
cooking-ez.com
311K
4.0
October 24
th
2017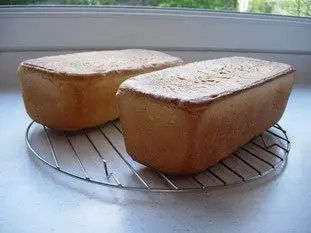 For 2 Sandwichs bread, you will need:
Times:
| Preparation | Resting | Cooking | Start to finish |
| --- | --- | --- | --- |
| 26 min. | 2 hours 30 min. | 30 min. | 3 hours 26 min. |
Step by step recipe
1: Put in the bowl of a food processor: 100 g leaven, 250 ml whole milk (warm), 5 g caster sugar and 9 g salt.
3: Knead at minimum speed for 5 minutes, then on speed 1 for a further 5 minutes.
You could also chech the dough by trying the window-pane test.
Note: For the best way to knead, see: A few tips for effective kneading at home.
4: Gather dough into a ball, cover with a plastic sheet and leave in a warm place to double in volume (1 hour or 2).
5: At the end of this time, cut dough into two pieces of the same weight, and shape them into long rolls the length of your mould or tin. You can consult the leavened bread recipe to watch a video on how to do this.
6: Put each lump in a rectangular mould.
7: For classical sandwich bread, with slices of this form: cover both moulds with a plastic sheet and leave to rise and overflow a little.
For completely square bread, put a plate on top of each mould and weight it, to force the dough to fill the whole mould as it rises.
Leave to rise about 1 hour until moulds are well filled, or dough is well up the sides in the mould according to choice.
Preheat oven to 240°C or 464°F.
8: Bake for 20 - 30 minutes (watch colouration towards end of cooking time). Note: if you opt for moulded loaves, leave plate and weight on top during baking.
Remarks
This is the bread for toast, sandwiches and canapés of course, and you will see that its very subtle taste has nothing in common with industrial breads.
If you'd like more information about making your own bread, you can look at this
dedicated page
.
For even tastier bread, replace white flour with an equal mix of white and whole wheat flour.
Don't worry if you don't have any leaven, here it's just to add flavour as the dough is yeast-raised.
---
May 16th 2022.