Special Cheese and Walnut Sticks
A recipe from
cooking-ez.com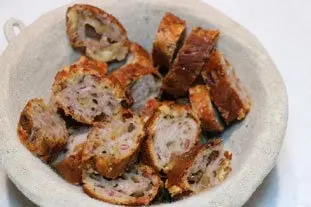 For 4 sticks, you will need:
Times:
| Preparation | Resting | Cooking | Start to finish |
| --- | --- | --- | --- |
| 14 min. | 2 hours 50 min. | 47 min. | 3 hours 51 min. |
Step by step recipe
1: Cut 200 g Comté cheese into small dice and set aside.
2: Fry 200 g small pieces of bacon, add 2 tablespoons vinegar at the end of cooking and set aside.
3: Toast 200 g walnut kernels for 15 minutes in the oven at 360°F (180°C).
4: You can rub the walnuts in a teatowel when they come out of the oven to help remove the skins, but this is not essential.
5: Mix the walnuts, bacon and Comté together.
6: Mix these into 600 g bread dough. The simplest way is to knead with a food processor on slow speed.
Note: For the best way to knead, see: A few tips for effective kneading at home.
7: Gather the dough into a ball, transfer to a large, clean bowl and cover with a plastic sheet. Leave to rest for 1 hour 30 minutes.
8: After this, weigh out the dough into lumps of about 300 g and shape into balls.
Leave to rest for 20 minutes covered with a plastic sheet.
9: Next, roll the balls out into long sticks and lay in a baguette mould or tin.
Leave to rest for 1 hour, covered with a plastic sheet as before.
10: Bake for about 20 to 30 minutes at 250°C (480°F) until the mini-baguettes are golden brown.
Note: As when baking any bread, you should ensure that the oven is filled with steam for the first 15 minutes of baking. This page shows you how; it really is the secret of golden-brown, crusty loaves..
11: Served sliced as an aperitif snack, for example, success is guaranteed!
Remarks
If you do not have any Comté, try and use a similar kind of cheese, such as Gruyère or Emmental.
You will notice that the added goodies amount to nearly as much as the bread dough itself. This may seem a lot, but it is the secret that puts the "special" in a special bread.
---
September 23th 2023.