Brownies
A recipe from
cooking-ez.com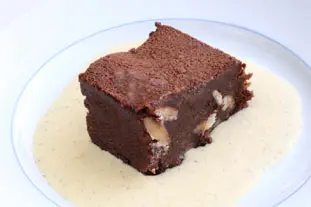 For 1 kg 400 g, you will need:
Times:
| Preparation | Cooking | Start to finish |
| --- | --- | --- |
| 19 min. | 15 min. | 34 min. |
Step by step recipe
1: Preheat the oven to 180°C (360°F).
Toast 200 g pecan nuts: spread them out on a baking sheet and put in the oven for 5 minutes.
Set aside, and leave the oven on.
2: Put 300 g dark chocolate et 300 g butter into a bowl.
3: Melt over a bain-marieor in the microwave on low power.
Set aside.
4: Put 200 g egg and 240 g brown sugar into a bowl and mix well.
5: Add the egg and sugar mixture to the chocolate.
Beat together by hand until thoroughly mixed.
6: Add 200 g flour, then the toasted pecan nuts.
7: Sit an 8-inch (20 cm) square tin, mould or ring on a sheet of cooking parchment, laid on a baking sheet.
8: Pour in the mixture.
9: Bake for 20-30 minutes, checking the cooking frequently. Brownies should stay soft, so it is important not to overcook.
10: Turn out when cold and cut in portions, if you wish.
11: You can serve brownies with real custard (crème anglaise) a little whipped cream, a scoop of vanilla ice cream or something more adventurous, like fresh mint ice-cream.
Remarks
If you don't have pecan nuts, walnuts will work just fine.
For an extra-delicious brownie, you can
caramelize
the pecan nuts (Jeremy's idea).
For a brownie with a more 'cereal' texture, add 50g rolled oats to the mixture. If possible, toast these like the nuts.
---
March 23th 2023.