Lobster Thermidor
A recipe from
cooking-ez.com
144K
1
4.5
January 22
th
2012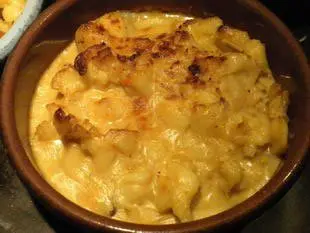 For 4 people, you will need:
1

4 lobsters tail

2

50 g butter

3

3 tablespoons Port

4

4 tablespoons Brandy (Cognac or Armagnac)

5

2 tablespoons flour

6

150 ml cream

7

salt

8

pepper
Total weight: 672 grams
Times:
| Preparation | Cooking | Start to finish |
| --- | --- | --- |
| 7 min. | 28 min. | 35 min. |
Step by step recipe
1: Cook the 4 lobsters tail in court bouillon, then remove the flesh from the shells and cut into pieces or slice.
Note: do not overcook the lobster or they will become rubbery. Use a thermometer if possible, and cook until the temperature at the centre of a tail reaches 60°C (140°F).
2: Heat 50 g butter in a large frying pan on high heat. When hot, tip in the lobster pieces and sauter (fry, tossing gently in the pan) for 2 or 3 minutes.
3: Pour in 3 tablespoons Port and 4 tablespoons Brandy (Cognac or Armagnac) and continue cooking until the liquid has been absorbed.
4: Sprinkle with flour and cook for a further 2 or 3 minutes, stirring constantly, until the lobster begins to brown slightly.
5: Pour in 150 ml cream, salt and pepper. Turn down the heat and leave to thicken on low heat.
Check seasoning.
6: Divide equally between small ramekins...
7: ... and finish in the oven for a few minutes, until browned on the top.
8: Serve piping hot in the ramekin.
Remarks
The original very classy, but somewhat-dated recipe is for lobster Thermidor, but lobster or langoustines (Norway lobster) work very well.
In the original version, the flesh is put back into the shell rather than into ramekins, which is much prettier, but rather tricky to do. If you want to try it, stand the half-shells in a bed of coarse salt to keep them upright.
---
December 7th 2023.