Mussels with beurre d'escargot
A recipe from
cooking-ez.com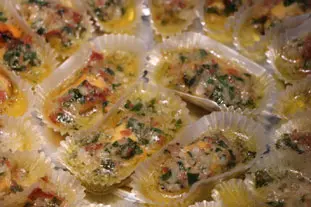 For 4 people, you will need:
Times:
| Preparation | Cooking | Start to finish |
| --- | --- | --- |
| 13 min. | 8 min. | 21 min. |
Step by step recipe
1: Cook the mussels in a little boiling salted water for 1 or 2 minutes, just until they open.
For a more delicate flavour, you can also cook them like for mussels marinière.
Shell the mussels.
2: Preheat the oven to 390°F (200°C).
Put each mussel in a little paper petit-four case.
3: Arrange the paper cases in an oven-proof dish.
4: Cut small slices of 100 g Beurre d'escargot.
5: Sit a morsel of beurre d'escargot on top of each mussel.
6: Cook in the oven for 5 or 6 minutes at the most. Above all, do not let the butter brown.
Serve piping hot.
Remarks
If you don't have any paper cases, you can use half a mussel shell instead, but this is less practical as the capacity is generally a bit small.
Another more elegant solution, though rather more complicated, is to make little cases out of
puff or flaky pastry (pâte feuilletée)
.
---
January 25th 2021.