Scrambled eggs with langoustines and asparagus tips.
A recipe from
cooking-ez.com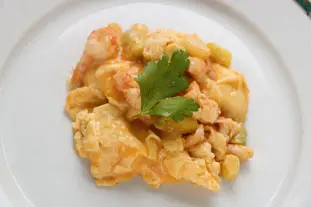 For 4 people, you will need:
Times:
| Preparation | Cooking | Start to finish |
| --- | --- | --- |
| 31 min. | 19 min. | 50 min. |
Step by step recipe
1: Prepare 150 g asparagus tips. If you are starting with whole asparagus spears, just keep the tips and use the rest for another recipe.
2: Cook 300 g langoustines (scampi) in salted boiling water for 1 minute (no longer), then shell.
3: Melt 20 g Clarified butter in a frying pan on high heat. When really hot, add the langoustines.
4: Fry for 2 or 3 minutes until coloured, then add the asparagus tips, salt and pepper. Mix well and turn off the heat.
6: Add the asparagus and langoustines, salt and pepper, then mix well.
Heat the plates.
7: Melt 30 g butter in a frying pan on high heat. When good and hot, pour in the mixture.
8: Using a wooden spatula or soft spatula, draw in the mixture from the edge of the pan towards the middle...
9: ...and keep it moving until just beginning to set. The aim is to end up with softly scrambled eggs, rather than an omelette.
10: Serve immediately.
Remarks
If you don't have langousitnes, use any other crustaceans in season: shrimp, prawns, etc.
---
October 24th 2020.