Artichokes with beef
A recipe from
cooking-ez.com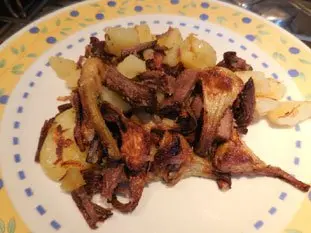 For 6 people, you will need:
1

200 g cooked potatoes

2

150 g cooked meat

3

1 shallot

4

700 g purple globe artichokes

5

3 tablespoons olive oil

6

parsley
Total weight: 1,120 grams
Times:
| Preparation | Cooking | Start to finish |
| --- | --- | --- |
| 32 min. | 14 min. | 46 min. |
Step by step recipe
1
Cut 200 g cooked potatoes and 150 g cooked meat into chunks.

Chop 1 shallot.
2
Prepare 700 g purple globe artichokes and cut into 4 lengthways.
3
Pour 3 tablespoons olive oil into a large frying pan on medium heat. When hot, add the artichokes, salt and pepper and mix well.

Turn down the heat, cover and leave to cook until the artichokes are lightly browned, stirring from time to time.
4
When the artichokes are cooked (tender), leave off the lid and add the shallots (add another 2 tablespoons of olive oil if necessary).

Salt lightly and cook for 1 minute without colouring, while stirring.
5
Then add the meat...
6
...and potatoes. Cook for a few minutes longer, just enough to reheat the meat and potatoes. Check the seasoning and scatter some chopped parsley over the top.
7
Serve on hot plates, with a trickle of olive oil poured over, if you wish.
Remarks
If you don't have purple artichokes, you can use chunks of normal artichoke hearts.
---
December 6th 2023.