Broad bean salad with Parmesan
A recipe from
cooking-ez.com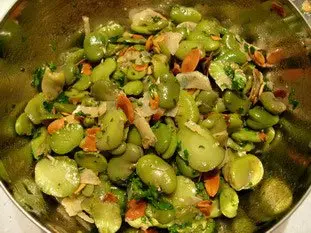 For 6 people, you will need:
0

400 g broad beans

1

1 handful flaked almonds

2

a little Parmigiano reggiano (Parmesan)

3

2 tablespoons balsamic vinegar

4

1 tablespoon vinegar

5

6 tablespoons olive oil

6

1 bunch chives

7

1 sprig tarragon

8

salt

9

pepper
Total weight: 585 grams
Times:
| Preparation | Cooking | Start to finish |
| --- | --- | --- |
| 27 min. | 8 min. | 35 min. |
Step by step recipe
1
Preheat your oven to 200°C or 392°F, put 1 handful flaked almonds on a baking sheet.

Put in the oven for about 5 minutes.
2
The almonds are ready when they turn golden brown.

Remove the sheet from the oven, scatter a little salt over the almonds and leave to cool.
3
Bring a large pan of water, with a tablespoon of salt added, to the boil.

When boiling, add 400 g broad beans. Cook for about 5 minutes, until tender.
4
Cool them in a strainer under cold water.
5
Dry them with a cloth.
6
Chop quite finely 1 bunch chives and 1 sprig tarragon.
7
Prepare the vinaigrette: In a glass jar with a good lid pour 2 tablespoons balsamic vinegar, 6 tablespoons olive oil, 1 tablespoon vinegar, pepper and salt.
8
Fasten the lid firmly on the jar, shake vigorously, and the vinaigrette is ready.
9
Put the broad beans in a bowl. Using a peeling knife make some shavings of parmesan.
10
Add the chives and tarragon.
11
Finally add the almonds.
12
If you are going to eat the salad now, add the vinaigrette and mix gently.

It's ready!
Remarks
If you do not eat the salad right away, don't add the vinaigrette now because the almonds will not stay crunchy. Better in this case to put the salad in the fridge (with a lid of
plastic film
), and add the vinaigrette (shake it again) just before serving.
---
October 22th 2021.