Almond macaroon cake
A recipe from
cooking-ez.com
28K
4.3
December 30
th
2019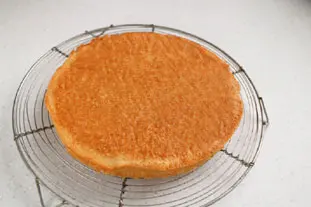 For 1 cake, you will need:
Times:
| Preparation | Cooking | Start to finish |
| --- | --- | --- |
| 23 min. | 35 min. | 58 min. |
Step by step recipe
1
Melt 40 g butter on low heat, then leave to cool.
2
Sieve into a bowl: 120 g caster sugar, 40 g ground almonds and 20 g flour. Mix well.
3
Beat 100 g egg white to stiff peak stage and add 1 tablespoon caster sugar at the end.
4
Tip the mixture from stage 2 into the beaten egg whites.
5
Fold in gently with a soft spatula, tipping the bowl on its side.

Don't overdo this - you need to keep the mixture as light and airy as possible.
6
Take out a little of the mixture (about 3 tablespoonsful) and put this into the pan with the melted butter, which should be alomst cold.

Mix well.
7
Pour this butter mixture into the bowl and fold in gently.

Mixing the butter in two stages like this helps to keep the mixture smooth and light without the butter causing it to "fall".
8
Preheat the oven to 360°F (180°C).

Put the mixture into a cake ring standing on a sheet of cooking parchment, or into a non-stick mould or tin.
9
Bake for 30 minutes.
10
Leave to cool in the tin. Be very careful when handling, as this macaroon cake is very fragile.
Remarks
You can vary the flavour of this cake by replacing some or all of the almonds with ground hazelnuts.
---
October 22th 2021.