Smoky canapés
A recipe from
cooking-ez.com
10K
4.5
February 16
th
2022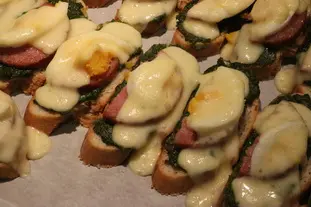 For 30 pieces, you will need:
Times:
| Preparation | Cooking | Start to finish |
| --- | --- | --- |
| 30 min. | 20 min. | 50 min. |
Step by step recipe
1: Preheat the oven to 390°F (200°C).
Slice 1 baguette fairly thinly and spread with pesto.
Arrange the slices as you go on a baking sheet lined with a sheet of cooking parchment.
2: Add a thin slice of cooked Morteau sausage to each.
3: Then half a slice of hard-boiled egg.
4: Top with a sliver of smoked cheese.
5: Bake for 15-20 minutes, just until the cheese melts.
Serve hot or warm.
Remarks
If you don't have spinach and pistachio pesto, classic
pesto
will still work fine.
You can use a different smoked sausage (Molène, Montbéliard,...) instead of Morteau.
---
June 9th 2023.