How to bake blind a pastry cake
A recipe from
cooking-ez.com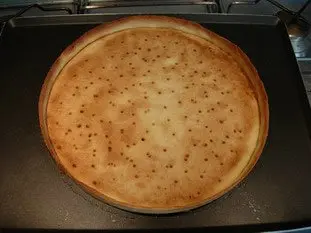 you will need:
Times:
| Preparation | Resting | Cooking | Start to finish |
| --- | --- | --- | --- |
| 25 min. | 1 hour | 15 min. | 1 hour 40 min. |
Step by step recipe
1: Roll out your pastry and line your tart mould/ring. Trim off excess pastry around the edge with a knife.
The prick all over bottom with a fork or pique-vite (to prevent pastry rising and making bubbles during cooking) and refrigerate for 30 minutes.
Preheat the oven to 210°C or 410°F.
2: Cut out a paper circle (it doesn't matter what kind), approximately 3 or 4 cm larger than the diameter of your mould.
Make small cuts with scissors (about 2 cm long, towards the centre) all around the circle (every cm approximately), so that it sits down into the mould.
You can do this qquickly by folding the circle in 4, as in the photograph, and cutting into the curved edge.
3: Remove mould from refrigerator, place the paper circle inside.
4: Press it down, and pour in something heavy enough to press on the dough and keep it flat. Pay particular attention to around the edge of the mould, so that the pastry is kept in place and cooks "straight" on the sides.
I use lentils, but you can use different things.
5: These lentils are very useful, because as they are small they can be used to cook small tarts and mini-pies for aperitifs or "amuse-bouche".
6: Once the mould is filled, put in the oven and cook for approximately 15-20 minutes, watching colouring attentively. It's the edges of tart which colour quickest.
If the tart is meant to go back in the oven later with a filling, it's better for it to barely colour, if not you can cook it a little longer.
7: When cooked, remove from the oven, place on a wire rack and empty out the contents and the paper circle. Do this gently because the tart will be very very fragile.
8: Then leave to cool (important) before filling with the preparation of your choice.
---
May 25th 2020.