How to prepare an avocado
A recipe from
cooking-ez.com
186K
1
3.3
January 9
th
2010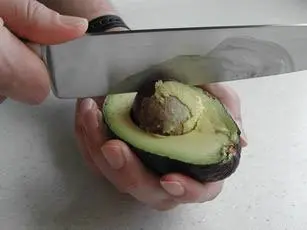 you will need:
Times:
Step by step recipe
1: Remove the small hard end of avocado.
2: Take the avocado in your hand, press the knife blade onto the end of the fruit, and cut across until you meet the stone.
3: Then turn around the stone, until you come back to the starting point.
4: Then take hold the avocado with one half in each hand and twist in opposite directions...
5: ... the two halves are easy detached.
6: To remove the stone, take the half which contains it in your hand, and give the stone a sharp blow with the knife: the blade will penetrate about half a centimetre ( ¼ inch).
7: Then give twist the knife, by holding avocado firmly...
8: ... and the stone should come out easily.
9: To remove flesh, use a tablespoon...
10: ... pass the tablespoon along the skin...
11: ... and scoop out avocado flesh in one movement.
12: To recap, watch the complete operation in this video.
Remarks
The best avocado kind is, in my opinion, the "Hass", almost purple or black and knobbly. Beware of perfect green shiny avocados, they have no taste. In general, let's say that the uglier they are, the better.
---
December 6th 2023.