How to poach peaches
A recipe from
cooking-ez.com
214K
3.8
September 6
th
2012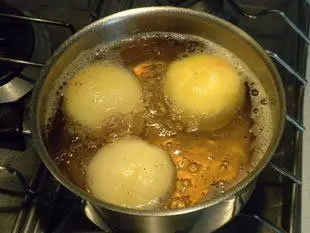 For 4 peaches, you will need:
1

4 peaches
Total weight: 520 grams
Times:
| Preparation | Resting | Cooking | Start to finish |
| --- | --- | --- | --- |
| 46 min. | 1 hour | 3 min. | 1 hour 49 min. |
Step by step recipe
1: It is very important to choose ripe peaches or nectarines, otherwise you will not be able to peel them properly.
Make a cross incision with a knife in the top of each peach.
2: Do not cut too deeply, this is just to split the skin.
3: Bring a pan of water to the boil.
4: Plunge the peaches into the boiling water for 10 seconds (the time it takes to count up to 20).
5: Take them out and plunge them into a bowl of ice-cold water.
If you have a lot of peaches, do them in small batches and be sure to let the water come back to the boil each time.
6: Remove the skin, which should pull off quite easily, starting from the incision at the top.
7: If you find a peach which is impossible to peel, (like this one in the photo), it is because it is not ripe enough. There is no point continuing with it, just take another one.
8: If you will not be using the peaches right away, sprinkle them with a little lemon juice, protect with stretch plastic film and keep in the fridge.
9: Prepare the Poaching syrup.
10: Put on medium or low heat until it simmers, then add the peaches.
Leave to cook at a simmer until the peaches are tender: a knife blade should pass easily through the flesh to the stone.
11: Remove from the heat and leave to cool in the syrup.
12: When cool, cut the peaches lengthways and all round.
Use the knife blade to separate the peach halves from the stone.
13: You can them remove the hard part from where the stone was using a potato or melon scoop. This is not essential, but gives a professional finish.
14: If you intend using peach halves in your recipe, they are ready.
15: If you will be using diced peaches, cut the peaches into sticks first, then into large dice.
Remarks
The choice of peaches is very important. What the peaches look like doesn't matter ('pêches de vigne' or bush peaches are often ugly and stunted, but have an extraordinary flavour), but their ripeness does: they must be perfectly ripe with plenty of flavour and bought when
fully in season
. Beware of those good-looking peaches out of season which are often hard and, above all, tasteless.
---
December 8th 2023.