How to prepare endives
A recipe from
cooking-ez.com
401K
3.5
February 14
th
2012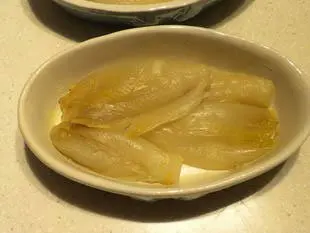 For 4 endives, you will need:
1

5 endives (head of chicory)

3

water
Total weight: 350 grams
Times:
| Preparation | Resting | Cooking | Start to finish |
| --- | --- | --- | --- |
| 18 min. | 5 min. | 3 min. | 26 min. |
Step by step recipe
1: Trim a little from the base of 5 endives (head of chicory), remove and discard any untidy leaves, then wash endives.
2: Boil a large pan of salted water.
With a small sharp knife, remove a small cone from the bottom and discard it. The cone size depends on endive size, usually about half an inch is fine.
This reduces the endive's bitter taste.
Note:If endive are medium or big size, think to cut them in two, from top to bottom, to reduce cooking and blenching time.
3: Put endives in boiling salted water for 2-3 minutes...
4: ... then remove them using a skimmer, put into very cold water.
You've just blanched endives, and we do that to reduce the bitterness still further.
5: Leave endives in cold water for five minutes, then drain and dry them. The best way is to use a salad spinner, and then leave on a tea-towel.
Remarks
In this recipe I say "reduce bitterness" because we don't want to suppress it entirely: it's part of the endive taste, its character, that we should keep.
---
November 29th 2021.