How to prepare an onion or shallot
A recipe from
cooking-ez.com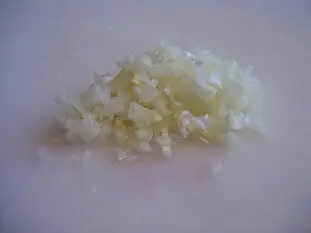 you will need:
0

1 onion
Total weight: 125 grams
Times:
Step by step recipe
1: Place an onion or shallot on its side.
2: Cut off the base (about ½ cm or ¼") and discard.
3: Do the same with the top.
4: Slit the whole height of the skin down the side.
5: Peel off the skin to leave just the white flesh.
6: Rinse and dry.
7: Cut in half lengthways.
8: Place flat side down, and slice horizontally, but without cutting right to the end, so that the slices are still held together.
9: Then slice vertically, again without cutting right to the end. You will then have small sticks held together by the uncut portion.
10: And finally, slice downwards, as if slicing the half shallot normally, to cut into small pieces ready to add to your recipe.
11: Finish by chopping the uncut portion.
12: Do the same with the other half, and your shallot is ready for use.
13: See all this steps in a small video.
---
September 29th 2020.