Pork chops in the oven
A recipe from
cooking-ez.com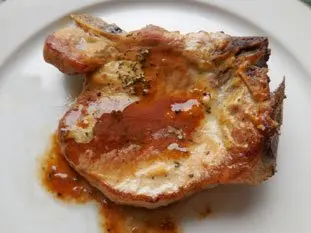 For 4 people, you will need:
Times:
| Preparation | Cooking | Start to finish |
| --- | --- | --- |
| 9 min. | 16 min. | 25 min. |
Step by step recipe
1: Brush 4 porks chops with oil, then salt and pepper on both sides.
Preheat the oven to 360°F (180°C).
2: Using a frying pan that can also go in the oven, fry the chops on high heat until just starting to brown...
3: ...for about 1 minute on each side.
4: Remove the frying pan from the heat and brush both sides of the chops with mustard...
5: ...them sprinkle with thyme.
6: Return the chops to the pan and cook in the oven for 10 minutes,
Heat the plates.
7: Transfer the chops to the serving plates and cover with aluminium foil. Leave to rest for 5 minutes and meanwhile, make the sauce:
8: Pour 1 glass dry white wine into the frying pan...
9: ...deglaze, salt and pepper, then leave to reduce until only about a tablespoonful of liquid per person is left.
Check the seasoning.
10: Pour 1 spoonful of sauce over each chop and serve without delay.
Remarks
If you don't have any thyme, you can use rosemary or even mixed herbs instead.
---
February 18th 2020.