Rillons de Tours
A recipe from
cooking-ez.com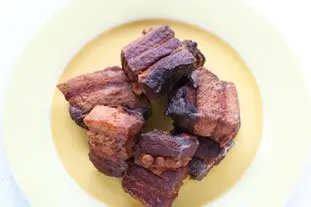 For 750 g, you will need:
1

1 kg belly (streaky) bacon

2

250 g lard

3

1 litre dry white wine
Total weight: 2,250 grams
Times:
| Preparation | Cooking | Start to finish |
| --- | --- | --- |
| 13 min. | 2 hours 6 min. | 2 hours 19 min. |
Step by step recipe
1: Cut 1 kg belly (streaky) bacon into fairly large chunks. Use lightly-salted pork belly if possible.
Note: There is no need to remove any pieces of gristle you might find, they can be removed easily after cooking or when served.
2: Melt 1/4 of 250 g lard in a large saucepan on high heat, then add the pieces of bacon.
3: Fry until browned all over.
4: Add the rest of the lard, leave this to melt, then add 1 litre dry white wine (preferably a Touraine) and bring to the boil.
Turn the heat down to its lowest setting.
5: Leave to cook gently on low heat for 2 hours uncovered until the rillons are "confit".
6: Drain after cooking. The rillons are ready and can be eaten hot or cold.
Remarks
Choose the leanest bacon you can as this makes the best rillons. You can use smoked bacon if you enjoy the flavour.
The lard can be filtered and saved after cooking to use next time you cook rillons.
As mentioned above, rillons can be used in any recipe that calls for lardons (bacon bits), such as
quiche lorraine
.
---
June 9th 2023.