Wiener Schnitzel
A recipe from
cooking-ez.com
125K
4.1
September 7
th
2018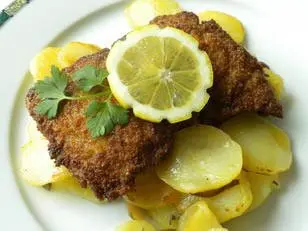 For 4 cutlets, you will need:
Times:
| Preparation | Cooking | Start to finish |
| --- | --- | --- |
| 1 hour 16 min. | 4 min. | 1 hour 20 min. |
Step by step recipe
1: Prepare whatever else you will be serving to accompany the Wiener schnitzels (here it is pan-fried potatoes with mushrooms), and keep hot.
2: Trim the cutlets: remove anything that is not good flesh, then dry the cutlets on absorbant paper. Salt and pepper both sides.
3: Make a small cut in the sides of each cutlet. We do this to prevent it contracting and curling up during cooking.
4: Glaze both sides.
5: Dust each side with flour, then brush with beaten egg again.
6: Sprinkle with breadcrumbs, then shake the cutlet gently to remove any excess.
Prepare all the cutlets like this.
7: Pour 6 tablespoons oil into a large frying pan on high heat. When lightly smoking (very hot), lay the cutlets in the pan.
Cook for one or two minutes on the first side.
8: Turn the cutlets (using tongs if possible) and cook for one or two minutes on the other side.
9: Serve immediately. The traditional garnish is a slice of lemon and a sprig of parsley.
Remarks
Ask your Butcher to prepare the cutlets nice and fine for you, cut vertically and from the cushion (thick part of the leg) if possible, as this is important for the recipe. Explain that you are making Wiener schnitzels and any good butcher will know what to do.
Please note that if you cook the cutlets in batches, you will need to change the oil as bits of the breadcrumb coating will fall off and they will burn if left in the pan too long.
---
June 9th 2023.