Almond dacquoise
A recipe from
cooking-ez.com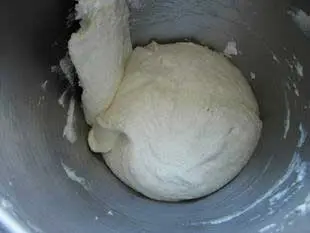 For 500 g, you will need:
Times:
| Preparation | Cooking | Start to finish |
| --- | --- | --- |
| 19 min. | 25 min. | 44 min. |
Step by step recipe
1: Beat 5 egg whites, incorporating 2 tablespoons caster sugar halfway through, then 150 g icing sugar when they are stiff.
2: Tip 150 g ground almonds into the meringue.
Preheat the oven to 180°C (360°F).
3: Fold in the ground almonds gently.
4: Your dacquoise dough is ready.
5: You can pipe biscuits with a forcing bag like finger biscuits.
6: Or spread the mixture into one big flat biscuit with a metal spatula.
7: You can also make pistachio dacquoise by replacing the ground almonds with ground pistachios.
8: Cook for around 25 minutes without opening the oven door, otherwise the dacquoise is very likely to fall completely flat.
Remarks
Another possible flavour: the almonds can be replaced with hazelnuts.
Important: the dacquoise dough is very sticky, so must be cooked on a non-stick
baking sheet
or a sheet of
cooking parchment
.
If you lose track of how many egg whites you have in your bowl, remember 1 egg white = 30 g approximately.
---
December 3rd 2023.