Choux pastry (pâte à choux)
A recipe from
cooking-ez.com
492K
3.7
February 13
th
2022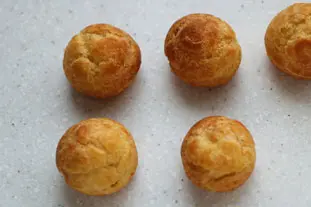 For 400 g, you will need:
Times:
| Preparation | Cooking | Start to finish |
| --- | --- | --- |
| 21 min. | 43 min. | 1 hour 4 min. |
Step by step recipe
1: Preheat oven to 410°F (210°C).
whisk
2: Pour 60 ml milk and 60 ml water into a pan, add 60 g butter, 2 g fine (or table) salt and 4 g caster sugar.
3: Heat on medium heat until butter is completely melted.
4: Remove pan from heat, and 75 g flour.
6: Put pan on low heat, and stir dough for one minute to dry it.
7:

By hand


Pour the ball into a small bowl.
8: Pour beaten eggs step by step...
9: ...and whisk to mix.
10: Note:The more eggs you add, the more difficult the dough will be to mix. If you need to, you can use a spatula or a maryse instead of a whisk.
11: Your handmade choux pastry is ready.
12:

With a mixer


Pour the ball into the bowl of a mixer.
13: Start up at minimum speed.
14: Gently pour the eggs into the bowl of the mixer while it is moving, until completely incorporated.
15: Increase the speed of the mixer a little and continue beating for a minute or two to aerate the dough a little.
16: Your choux pastry mixer made is ready.
17:

Dressing


Place a sheet of parchment paper on a baking sheet.
Pour the choux pastry into a piping bag.
18: Make choux with the forcing bag, in shape and size of your choice, here small round choux.
Don't forget that dough will rise and spread during cooking, so choux must not be too close together.
19: If you're not easy with forcing bag, you may have unwanted small peaks on top of choux
20: In this case, flat the peak using a teaspoon soaked in milk...
21: ...to get a well rounded top.
22: Other solution, use craquelin (sweet cracker dough) which give a real professional look.
23:

Cooking


Put in the oven for about 30 minutes.
Remove choux from the oven as soon as they are browned.
Note: Don't open the oven door during cooking, because the drop in temperature will make your choux collapse.
Leave to cool on a wire rack
Remarks
According to whether the choux pastry will be used for a sweet or savoury recipe, you can double the quantity of sugar or salt to accentuate the taste. For example: you want to make sweet cream puffs, make this recipe with 2 g salt and 5 g sugar, for salted cream puffs (with
bechamel sauce
for example) use 2 g sugar and 5 g salt.
---
May 16th 2022.