Confectioner's custard (Crème pâtissière, or French pastry cream)
A recipe from
cooking-ez.com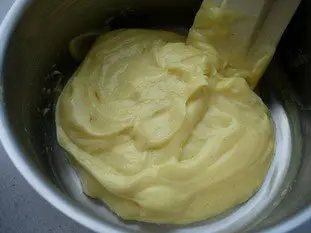 For 720 g, you will need:
Times:
| Preparation | Cooking | Start to finish |
| --- | --- | --- |
| 29 min. | 7 min. | 36 min. |
Step by step recipe
1: Pour 500 ml milk into a pan, and add the inside of 1 vanilla pod (the little black seeds) after carefully scraping them out with the tip a knife.
Bring to the boil on medium heat. As soon as it boils, take off the heat, cover and leave vanilla to infuse 10 minutes.
2: Meanwhile, put 6 egg yolks in a bowl and add 100 g caster sugar, and without delay beat to mix thoroughly.
It is not necessary to beat for a long time to whiten, so it can be done by hand with a whisk in 1 minute.
4: Then slowly pour the hot milk onto the mixture while beating continuously until thoroughly mixed.
5: Transfer the mixture back into the pan.
6: Unlike for crème anglaise or crème brûlée, it is not essential to remove the froth, it will get mixed in during cooking.
But it's better...
7: Put the pan on low-medium heat, and cook gently while beating continuously.
It's important to scrape the whisk over the bottom of the pan to avoid custard sticking.
8: Cooking is complete when custard is of a good consistency, in other words like a thickish purée, but not too firm..
The custard thickens quite quickly, especially if the heat is high, so do not to hesitate to take pan off heat, while continuing to stir, if this happens.
Also, remember that your custard will continue cooking for a little while after being removed from the heat, so bear this in mind when deciding at what point to stop...
9: Once custard is finished, cover the pan to avoid a skin forming.
Later, if you use the custard cold and it is too stiff, beat one or two tablespoonsful of cream into it vigorously.
10: When finished, cream is very hot, if you want to use it immediately you should cool it.
The easier solution is to put it in the fridge, but it's quite long.
The best way is to proceed as chefs, and spread it on a plastic film (to protect from the air) then put it in the fridge.
11: This short video show you how to proceed.
Remarks
It's possible to flavour confectioner's custurd with other things rather than vanilla: coffee, alcohols, etc... You can also make a chocolate custard by folding about 100 g of chocolate,
broken in small pieces
into the custard with the
whisk
while it is still hot.
---
May 26th 2020.