Pistachio powder or paste
A recipe from
cooking-ez.com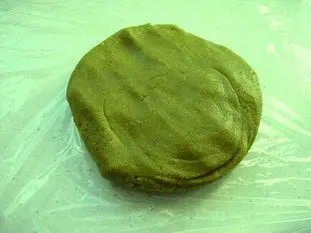 For 400 g, you will need:
Times:
| Preparation | Resting | Cooking | Start to finish |
| --- | --- | --- | --- |
| 16 min. | 15 min. | 17 min. | 48 min. |
Step by step recipe
1: Preheat oven to 170°C (340°F).
You can buy pistachios already blanched with their skins removed (the green ones on the left in the photo), or still in their skins (usually cheaper).
2: For this recipe the pistachios need to have the skins removed, so if you need to do this, plunge them for 2 minutes into boiling water. Drain, then slip off the skins, which should now be quite easy.
3: Spread out on a baking sheet, and put in the oven to dry roast for about 5 minutes.
4: Meanwhile heat 200 g caster sugar and 4 tablespoons water together in a small pan over high heat, and bring up to 120°C (250°F), using an electronic thermometer if possible.
5: When this temperature has been reached, tip the pistachios all at once into the pan.
6: Then stir with a wooden spatula. After a few seconds the mixture should become grainy.
If this does not happen immediately it is because the sugar has not reached 120°C (250°F) yet. Don't worry, just keep stirring for a while longer until the change occurs.
When the mixture has turned grainy (like in the photo), stop stirring, remove from the heat and leave to cool.
7: Tip the cooled contents of the pan into a blender or food processor.
8: Blend until it becomes evenly ground and green: pistachio powder.
If you wish to use this powder for flavouring biscuits, a cake or a cream for example, use as it is. The powder is quite easy to incorporate.
9: If you want pistachio paste, to fill chocolates for example, it's useless to blend any longer as, unlike praline, it will not turn into a paste like this.
All that's needed is the addition of a little egg-white (as for marzipan) to bind the powder.
10: The paste is best kept refrigerated, preferably spread into sort of flat cake, and wrapped in plastic film. Keep the powder at room temperature in an airtight jar.
Remarks
You will note that this recipe, unlike many others, does not contain almonds, just pistachios and sugar.
---
May 26th 2020.