For
400 g

, you will need:
Change for:
Measures:
How long does it take?
Time required
| Preparation | Resting | Cooking | Start to finish |
| --- | --- | --- | --- |
| 16 min. | 15 min. | 17 min. | 48 min. |
Keeping:
A few days in the fridge, in a closed jar.
At what time?
When will I finish if I start the recipe at a certain time?
When should I start for the recipe to be ready at a certain time?
Work this out...
---
Step by step recipe
---
Stage 1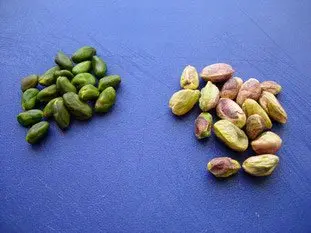 Preheat oven to 170°C (340°F).
You can buy pistachios already
blanched
with their skins removed (the green ones on the left in the photo), or still in their skins (usually cheaper).
---
Stage 2 - 2 min.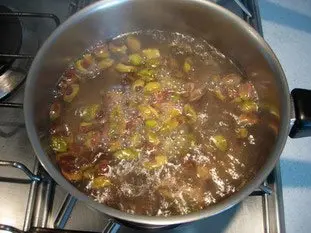 For this recipe the pistachios need to have the skins removed, so if you need to do this, plunge them for 2 minutes into boiling water. Drain, then slip off the skins, which should now be quite easy.
---
Stage 3 - 5 min.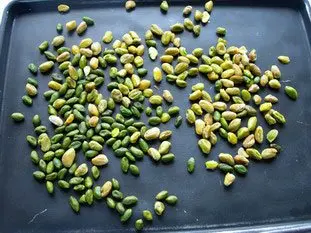 ---
Stage 4 - 10 min.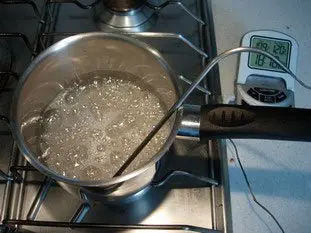 ---
Stage 5 - 5 min.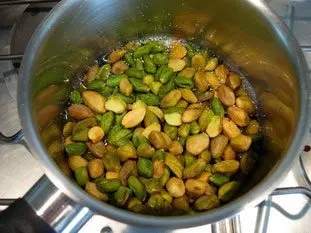 When this temperature has been reached, tip the pistachios all at once into the pan.
---
Stage 6 - 15 min.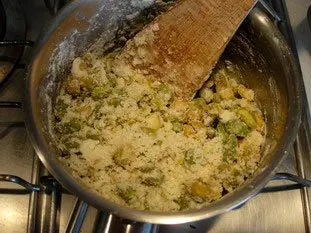 Then stir with a
wooden spatula
. After a few seconds the mixture should become grainy.
If this does not happen immediately it is because the sugar has not reached 120°C (250°F) yet. Don't worry, just keep stirring for a while longer until the change occurs.
When the mixture has turned grainy (like in the photo), stop stirring, remove from the heat and leave to cool.
---
Stage 7 - 1 min.
Tip the cooled contents of the pan into a blender or food processor.
---
Stage 8 - 3 min.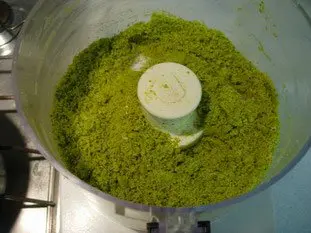 Blend until it becomes evenly ground and green: pistachio powder.

If you wish to use this powder for flavouring biscuits, a cake or a cream for example, use as it is. The powder is quite easy to incorporate.
---
Stage 9 - 2 min.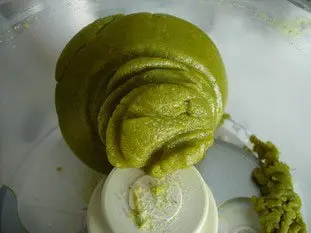 ---
Stage 10 - 5 min.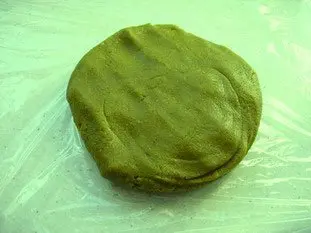 The paste is best kept refrigerated, preferably spread into sort of flat cake, and wrapped in
plastic film
. Keep the powder at room temperature in an airtight jar.
Remarks
You will note that this recipe, unlike many others, does not contain almonds, just pistachios and sugar.
Nutritional information
% are calculated relative to a Recommended Dietary Intake or RDI of 2000 k-calories or 8400 k-joules by day for a woman (change to a man).
Recipes which use this 5
Source
Home made
More recipes?
This recipe uses (among others)
| | |
| --- | --- |
| | Pistachios: You can check-out other recipes which use it, like for example: Chocolate cereal bars, Pistachio panna cotta with custard, Mini apricot and pistachio brioches, Chocolate Truffles, Pistachio shortbread biscuits, ... All |
| | Caster sugar: You can get more informations, or check-out other recipes which use it, for example: Stewed apricots, Toffee apple upside-down cake, Little caramelized peach tarts, Brioche Tatin, Breton apple and rhubarb tart , ... All |
| | Water: You can get more informations, or check-out other recipes which use it, for example: Paella, Steak burger topped with egg, Sausage and lentils "en cocotte", Sesame fried scampi, Minestrone, ... All |
News list of cooking-ez.com
Sign up to receive the latest recipes (next batch due to be sent on 2019-07-21)
Note: We'll never share your email with anyone else.
Follow this recipe (as 3 people already do)
If you are interested in this recipe, you can "follow" it, by entering your email address here. You will then receive a notification immediately each time the recipe is modified or a new comment is added. Please note that you will need to confirm this following.

Note: We'll never share your email with anyone else.